Entering into adulthood and moving to college, a college boy needs so many things to do well and fit in. Many of these things usually end up only on a wishlist because of a tight budget and schedule. Whether you are a parent, a sibling, a family member, a friend or a girlfriend of some guy that is just about to go to college, giving some useful and cool gifts is a good way of showing that you care. The only tip you need to have in mind while choosing gifts for college boys is to make sure you get them something practical but something to make them look good as well.
Handy Gift Ideas for College Boys
In the text below, 10 smart and practical gifts for college guys you can buy to cheer them up are presented. These gifts are not only useful, but they can also uplift their mood whenever they are upset or homesick. At this age, receiving gifts is one of the most exciting things. But you need to know what kind of things are popular and what is trending to achieve that joy and excitement. So, let's see what you can get for your college boy.
1. Apple AirPods
Tech gadgets are the most popular items among college boys because they are cool and handy at the same time. Many of them like music, so gifting a pair of cordless headphones is always a good idea. These headphones make it easy for them to workout or handle busy chores while enjoying music. A good pair of headphones like Apple AirPods can last for a long time.
2. Trendy Hydro Flask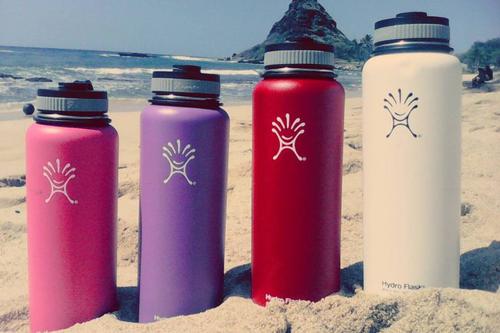 A water bottle always comes in handy, especially during summertime. Invest in a trendy Hydro Flask for your college boy so that he can stay hydrated and fit. These bottles come in different sizes and are very trending these days. He will surely enjoy this practical gift.
3. Comfy Sweater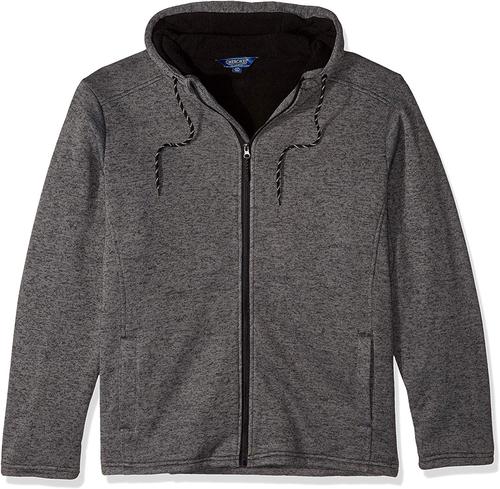 What is a better and practical gift than a sweater? But when buying it, you shouldn't choose just some standard kind of sweater your college boy wouldn't wear. Look for fleece that is super comfortable and trendy. It's not very expensive and he will love wearing it during the cold weather. It is one of the practical gift ideas for college guys.
4. Amazon Echo Dot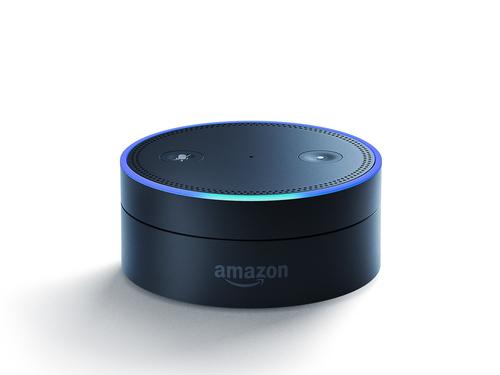 If you want to go for something different, then the Amazon Echo Dot is the right choice. Our college boy can do a lot of different things with the Echo Dot. It's a voice-controlled smart speaker that is portrayed by the artificial intelligence called Alexa. If the college boy is studying, he can just ask questions like: "Alexa, what is Marxism?" or "What is responsive web design?", and he will get a reply. He can listen to music, news and ask for weather updates. It is one of the best tech gifts for college boys and in general.
5. Portable Power Bank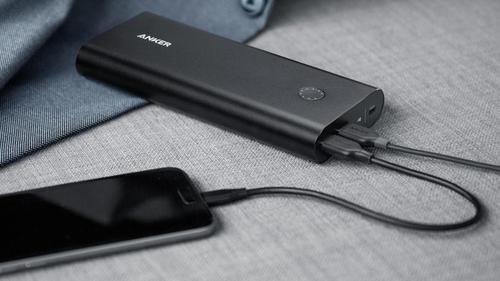 Who doesn't want a portable power bank? When you can't talk to your college boy just because his phone battery is "dead", you miss him even more. Sometimes it's not possible to contact through the laptop. Then you wish that you could just call him. Send a portable power bank to make sure his phone is charged all the time.
6. Snack Kit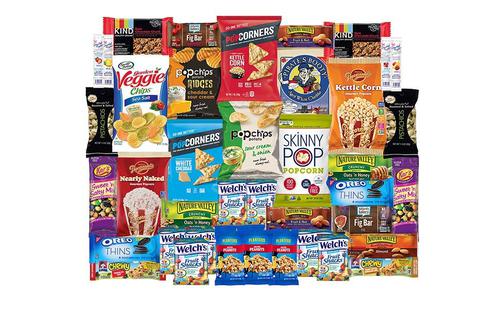 Students are hungry most of the time and if you can give them something to snack, they will almost never refuse it. If you are a good cook, you can make snacks and desserts that are shelf-stable. But if you don't have time or are not talented, simply buy a snack kit for your college boy. He will love munching on these snacks while he is studying. It is one of the most pleasing gifts for college boys.
7. Lap Desk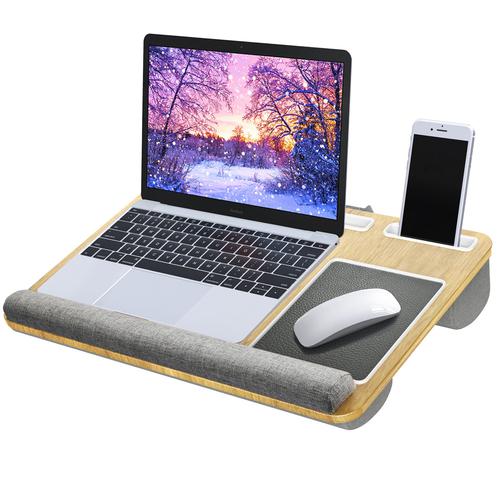 Here is another practical gift for your college boy. A lap desk will add to his comfort when he is working, studying or watching a movie lying in bed. There are different kinds, but we recommend the ones made with an environment-friendly wooden panel. The bolster cushions add to the comfort and support. There are holders for a phone, a pen and a tablet (just as shown in the picture above). The wrist pad helps in placing the wrists comfortably and making the laptop stable. He will definitely use this gift.
8. Breakfast Sandwich Maker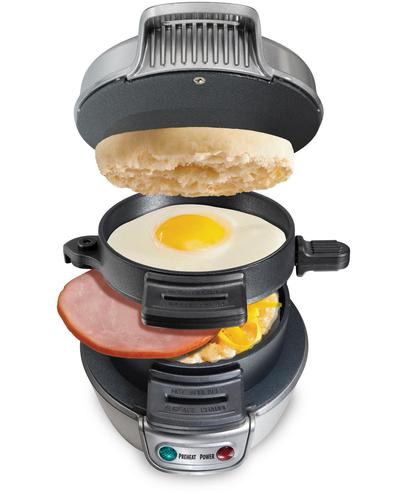 Sometimes you worry about your college boy's health and eating habits. Being a parent or an older sibling, you know that he probably does not eat healthily. You can solve this and feel better by giving him a breakfast sandwich maker. He just needs to choose bread, cheese, eggs, precooked meat or vegetables. He can easily make a breakfast sandwich while he is getting ready for class. It's a grab and go kind of breakfast that can keep him fed for a long time.
9. Stylish Waterproof Backpack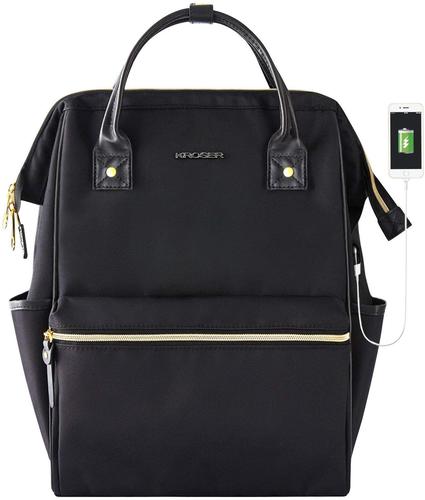 Every college boy needs a good backpack to keep his laptop, phone and other documents. He can keep his things in this backpack and make sure nothing gets wet if it rains. How cool is that? It's also very stylish, so he will love how it looks. There is also a built-in USB port so he can charge his phone as well.
10. Bedside Caddy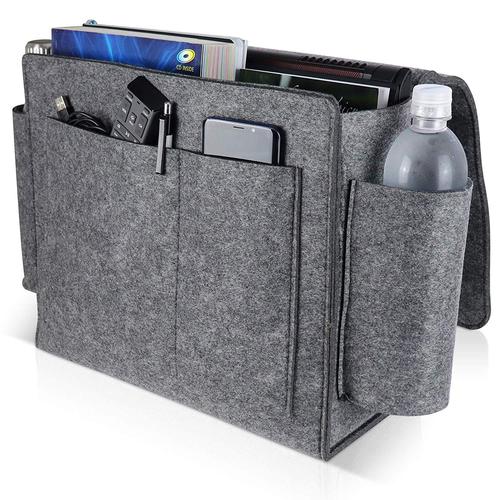 When it's time to relax after a long day, many of us can't find small things like glasses, books and stationery. Keeping this in mind, you can give a bedside caddy to your college boy so he can keep little things in this spacious organizer. He can keep his tablet, books, magazines, glasses, stationery items and a lot more in his bedside caddy. Having all his things in one place, he can relax knowing that he does not have to look for them when needed.
Add Personal Touch to Gifts
Choosing amazing gifts for college boys is not as daunting as you think. You just have to put some thought while looking for practical ideas for college guys. Keep his personality and style in mind while shopping for gifts. Give a particular theme to the gift you are sending by attaching a card, a drawing or any personal item that brings sweet memories to mind. These gifts can also add to his comfort and help him get used to college life. It's also a good way of keeping that connection with family and friends strong. Whether you are sending cool gadgets or some comfy items, these presents are a great way of saying that you care about him.