Whether you are a first-timer or a professional dater, the question of when to kiss a girl is usually asked with some level of anxiety. Unlike in the movies when kissing a girl for the first time often occurs on the first date, this isn't always the case in real-life settings. Clearly, in the absence of scripts and rolling film, first-time kisses aren't strictly done on first dates.
The issue of when to kiss a girl shouldn't concern you as much as how to decipher when you should kiss a girl. This is because a kiss happens when the signs that indicate that she wants a kiss from you are evident.
Before we proceed to the "I am ready to kiss you" signs from a girl, another important question to address is how long should you date a girl before kissing her. The answer is not long at all.
If it doesn't happen on the first date, set the pace for the first kiss on the third date and never later than that. For a girl to go on a second or third date with you, it shows that she likes you and enjoys your company. Keeping her waiting for a kiss will probably send her. The wrong message can impede any future chance of a romantic relationship with her.
Signs That a Girl Is Ready to Kiss You
The following 8 signs show that a girl wants to kiss you:
1. She is fascinated by you
The signs are in her animated chats, wild gestures, and general enchantment with you. If you think it is universal for every girl to be enraptured in a man's company, then you are mistaken. So, when you notice that the girl you are dating is high in your presence, there's more she could be expecting from you (the least among them being a tender kiss on her lips).
2. She sticks close to your body most of the time
This may not happen on the first date unless you both have built a rapport via texts and calls before your first face-to-face meeting. Usually, a girl becomes noticeably freer starting from the second date.
However, she may not take it quite so far as to cling cozily to your body during the date unless she wants to be romantically involved with you. Take that as a clue that she would welcome a kiss from.
3. She touches and feels you
Dude, this is the real deal. Why are you still waiting when this special woman risks being vulnerable to touch your face, chest, or arms, and even lingers on each part to memorize the feeling? Surely, you can't afford to leave her disappointed by holding back from planting the kiss on her lips which her body and soul yearn for.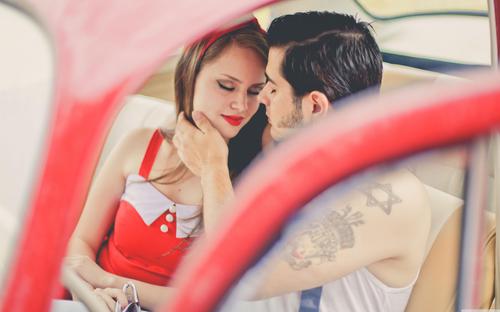 4. When she asks you for a kiss
This is not how it plays out in the majority of dating experiences. Actually, a great percentage of girls are traditionally inclined to receive a kiss without asking for it, and there are a few others who are direct in their request, especially if they are attracted to you.
So, if you're lucky to take such an unconventional woman out on a date, never hesitate to give her a kiss that she will remember when she asks for one.
5. She moistens her lips unconsciously
If a girl licks or smacks her lips to moisten them, this is a sure sign that she is preparing herself for an anticipated kiss. She does that unconsciously because her heart, and not her head, is leading the way.
6. She responds positively to your touch
A positive response includes a smile, a giggle, or blushing. When a girl responds happily to a romantic touch of her hand, the small of her back, or brushing of her cheek/shoulder, the coast is already clear for a kiss from you.
Conversely, if she pulls away or jumps back when you touch or draw close to her, she is likely to respond coldly to any attempt to kiss her.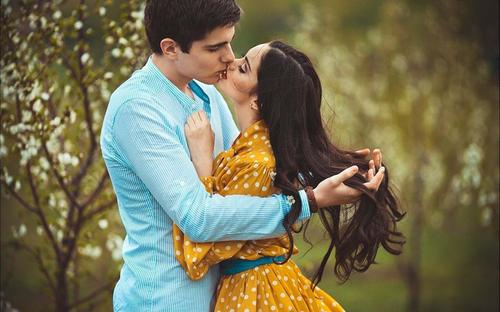 7. When she lingers while hugging you
This, coupled with holding her face close to yours, is a surefire sign that she wants a kiss from you. In this case, there's no cajoling, no forceful embrace, and obviously no overstepping of her boundaries.
By not letting go of you after a parting hug, she's showing that she's missing you already and wouldn't mind getting a kiss from you.
8. She expresses her desire for a kiss
This might not come in plain words, but from her conversations with you, you can sometimes tell that a girl you've taken out on a date most likely wishes to be kissed. Possibly, this could include her telling you certain intimate information about her dating life or about the expectations she has for her future boyfriend.
When she is through pouring out her heart to you, you'll notice that the atmosphere is saturated with an intense feeling only your kiss can help lighten.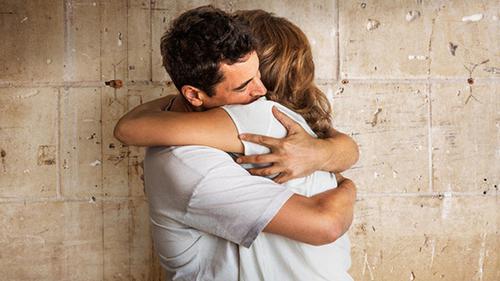 To reiterate what we mentioned earlier, asking when you should kiss your girlfriend becomes the least of your worries if you can perfectly gauge the signs that she's ready for it.
At whatever moment it takes place, a first-time kiss with your date, if well-executed, is a kudos to your budding romantic relationship. However, as a rule of thumb, be yourself during the date. Also, freshen your breath with minty chewing gum or breath mints.
Don't build up too many expectations, and refuse to sink into misery in the event the first kiss is nothing less than a flop. There are better kisses ahead.